11.10.2019
Digital protectionism - the success of industry 4.0 is in danger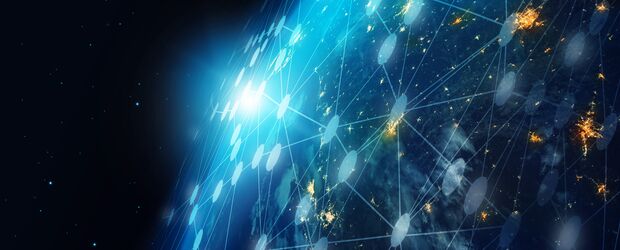 shutterstock
A new study by the IMPULS Foundation of the VDMA on digital market foreclosure shows that free data exchange is massively impaired. The effects are particularly hard on small and medium-sized enterprises.
Digital protectionism has become increasingly important in recent years. Digital market foreclosure has become a major threat to the free movement of data. However, the success of German mechanical and plant engineering increasingly depends on globally available and reliable digital business models. They are dependent on the unhindered, secure flow of data. Especially the middle class suffers from the increasing digital protectionism. The new study by the IMPULS Foundation of the VDMA - prepared by Bird & Bird LLP - shows for the first time the questionable to serious effects of protectionism on industry 4.0 and digitisation in mechanical and plant engineering.
Digital protectionism is a global threat
The study examined how the free flow of data presents itself with a focus on the EU, the USA, Russia and China. One result of the study is that companies are feeling the effects of protectionist measures both in the global sales markets for their machines and in the EU home market. High costs for local data storage, local inspection regulations and the concern about the disclosure of trade secrets make market access particularly difficult for small and medium-sized enterprises. Companies are therefore required to deal with an asymmetric regulatory environment. Federal and EU politicians must dismantle barriers to a free flow of data and avoid them in the future - on their own doorstep and on a global scale.
EU - Data protection for machinery?
Digital business models associated with industry 4.0 are also under "observation" of European data protection law. The wide scope of application of the basic data protection regulation leads to considerable, sometimes exaggerated requirements for documentation and information duties in the processing of machine data; at the same time, there is a lack of sufficient simplifications for the processing of pseudonymous data. This applies in particular to data from the interaction between man and machine (HMI data).
Especially the middle class suffers from the increasing digital protectionism.
China - Protection wall against free data flow
With the Cyber Security Law, China is developing a dense set of rules with significant effects on the free exchange of machine data. It affects all companies that market digitally networked products on the Chinese market. Given the importance of the Chinese market for industry, there is a great need for political dialogue. The aim here must be to enable new digital business models in mechanical and plant engineering through a free and secure data flow from China to the EU.
Russia - National foreclosure versus data flow
In Russia, the requirements for localization of personal data of Russian citizens can be a significant limitation. The same applies to requirements for the use of local Internet nodes. As in China, high local implementation costs for digital services (e.g. cloud services) can be expected. Companies need a clear strategy on how to deal with these (local) constraints and adapt their business models accordingly.
USA - Trade sanctions create additional costs
In principle, there are no significant regulatory restrictions in the USA that have a direct impact on the industry's digitization projects. However, export control regulations and trade sanctions can have an indirect impact on cross-border data exchange - for example, if encryption technologies originate in the USA and are to be used in the target markets of Russia and China. Additional development costs for technological alternatives can often only be borne by large companies.
Smokescreen Cybersecurity
In addition, there are increasing regulations in the area of cyber security, which primarily aim at the protection of so-called "critical infrastructures". These can be incidental - as far as the supply relationship with an operator of a critical infrastructure exists - or also directly cover mechanical and plant engineering. In China, machine and plant manufacturers can already be regarded as network operators under the existing legal situation and be affected by the associated high regulatory requirements. A free flow of machine data to Europe seems hardly feasible here.
Security by Design is essential
Companies already have to deal with the requirements and specifications for cyber-safe operation in the development of digitally networked products. With a careful concept for security by design, technical requirements and market demands are integrated into products, systems and services at an early stage. The associated cyber resilience helps ensure that machines and systems are robust enough to withstand attacks in continuous operation. The Mechanical Engineering Institute (MBI) of the VDMA has developed a suitable concept for further education.
VDMA provides comprehensive support
The VDMA offers its member companies comprehensive support in the field of digital services. The focus here is on helping people to help themselves, formulating technical regulations, exchanging experience and providing political support at national and international level. Several committees, comprehensive publications and events around Security, OPC UA, 5G, AI and Industry 4.0 are open to members. The VDMA also offers targeted help for companies abroad.
The VDMA Competence Center Industrial Security in Frankfurt also bundles the association activities of the VDMA and its 3,200 member companies on information security, security in production and security in mechanical engineering products. The Competence Center is the first point of contact for members, authorities and politicians.
The complete study with detailed results is available at www.impuls-stiftung.de